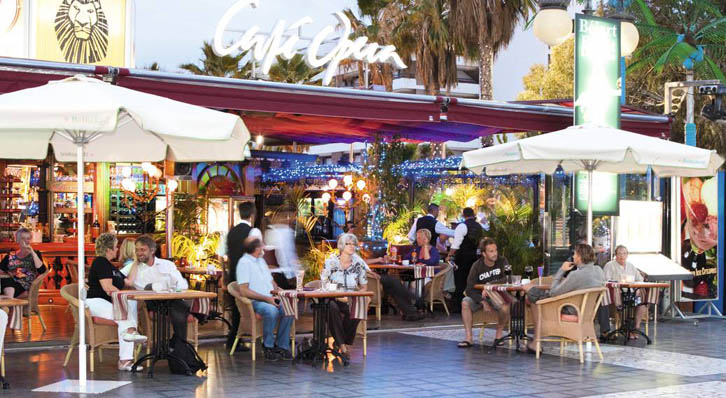 MASPALOMAS
Accommodation
Maspalomas and Playa del Ingles to the company have over 500 hotels, however, finding a place in them on your own is looking for a needle in a haystack. 99,9% hotels and apartments are booked through tour operators, therefore if someone wants to stay in this center, should rather opt for an package tour, which, by the way, will also be much cheaper than desperate attempts to make individual reservations. Exceptionally, the choice of hotels and apartments was not given, because in view of the situation it would simply be completely useless. The only place, where you can find really cheap accommodation, is Pensión San Fernando (c / La Palma 16; 928763906), housing several small rooms without a bathroom.
Gastronomy
There is no shortage of pubs and restaurants in the southern resorts, it must be admitted, however, that Chinese buffets play the first fiddle here, Italian restaurants and other establishments with "international cuisine."". With a bit of luck and persistence, however, you can find some nice points, serving Canarian and Spanish cuisine.
Serafin house (Centro Comercial Varadero s / n; 928143709). Good fish, paelle and tapas. The other is in Las Meloneras (Meloneras Shopping Center; 928145025).
Fishermen (Altamar Apartments; 928157124). Traditional Canarian cuisine – mostly fish.
Tenderete II (Avda. San Bartolome de Tirajana s / n; 928761460). The Canarian-style restaurant serves traditional island and peninsula cuisine.
The senator (Paseo del Faro s / n;928142086). Traditional island cuisine and dishes from mainland Spain. Nice selection of wines.
Old house (c / El Lomo 139; 928769010). The restaurant on the road to Fataga resembles a former rural property. Traditional and unpretentious dishes. Live music at weekends.
Rias Bajas (Avd. Tirajana s/n; 928764033). Dishes straight from Spanish Galicia – the seafood is particularly noteworthy. Large selection of Galician wines.
Entertainment
Bars, There are pubs and discos in Playa de Ingles and Maspalomas in a bunch. Where? First of all, in the so-called. shopping centres, that is, centers, where you can shop and eat in a restaurant during the day, and in the late evening to drink and dance. In addition, entertainment venues are concentrated in hotels and apartment complexes. As for Maspalomas, the most entertaining zone is probably the Templo Ecumenico area (ecumenical temple, shape reminiscent of the wings of the Sydney Opera House), while in Playa de Ingles the most pubs and discos are located in the Yumbo Shopping Center.