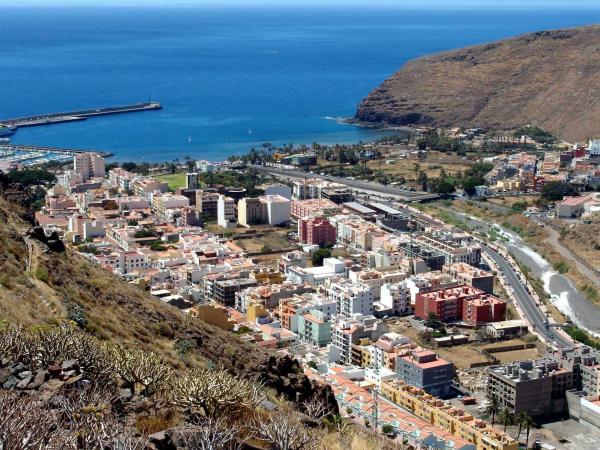 San Sebastian de la Gomera
Numbering approx 6,5 thousand. the inhabitants of San Sebastian de la Gomera probably not much has changed since then, when Christopher Columbus stayed here for a few days, to replenish supplies. Administrative, the historical and economic capital of the island is not without its small charm, even a provincial town, where life seems to flow slower. Narrow streets, low-rise colorful houses, climbing the slopes of the valley, some interesting sights and two beaches – this is what San Sebastian offers to residents and visitors.
According to some legends, the present capital of La Gomera was founded 21 January 1440 r. by Juan Bethencourt, however, no document confirms this. It is known for sure, that at that time the area of ​​present-day San Sebastian was taken by Hernan Peraza – the first governor of the island. San Sebastian, situated above the natural harbor, was originally called Villa de las Palmas because of its palm trees. Only after the unsuccessful uprising of the Guanches in 1488 r. name changed.
Seems, that the most important event in San Sebastian's history was the arrival of Christopher Columbus, who stopped here some time before heading to the New World. Anyway, it was thanks to the discovery of America and the development of trade between the old and new continents that the city flourished. Unfortunately, transatlantic voyages brought a series of misfortunes to San Sebastian in the form of attacks by privateers, who several times completely destroyed the city, devoid of fortifications.
Visiting San Sebastian is worth starting with climbing Mirador de la Hila, from where there is a beautiful view of the port and the sea of ​​colorful houses. The viewpoint is located approximately halfway to the luxurious Parador Conde de la Gomera, on a hill above the city. It's worth a look here, even if someone is not planning an overnight stay. Surrounded by greenery, the building is designed in the style of former country mansions, and the entrance resembles the main portal of the Church of Santa Maria de la Asunción in the city.