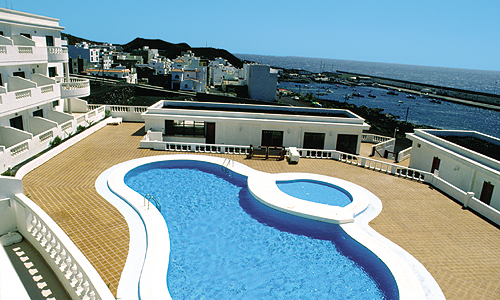 THE RESTIIUGA
Accommodation
There is no shortage of accommodation in the town – most of them are comfortable and modern apartments, often overlooking the port and the sea. Bahia Apartments (Avda. Marftima 12; www.apartamentosbahia.info). There are three apartments at guests' disposal, housing 1-4 persons. Equipped kitchen, bathroom and balcony overlooking the sea.
Apartments La Marina (Avda. Marftima 10; 922559016, www.elhierro.tv/codipehi/apartamentos.html). Well-kept clean and comfortable apartments for 1-4 people. Each has a balcony overlooking the port and the sea.
Pension Kai Marino (c / Varadero 6; 922507034, www.7canarias.com/casakaimarino, casakaimarino@hotmail.com). This is one of the oldest guesthouses on the island – w 1967 r. it was founded by a German couple – and the only guesthouse in the village. Currently, the owner is the son of the first owners – Kai, who will be happy to show guest books and share access to Wi-Fi. There are several rooms with bathrooms at the guests' disposal.
Rocamar Apartments (Avda. Mantima 20; 922557083). Clean and sunny apartments overlooking the sea.
Gastronomy
You can get an impression in the resort, that it has retained some of its former fishing village character. This impression is perfectly justified, because many of the inhabitants are engaged in fishing to this day, And the sight of fishing boats returning in the morning is not surprising. Nearby restaurants are the perfect place to taste dishes made of really freshly caught fish..
The shelter (c/La Lapa 3; 922557029; wt-nd. 13.00-16.30 i 18.30-22.30). A restaurant run by four brothers, one of which is a fisherman. It is not appropriate to order anything else at this point, like a freshly caught fish. Additionally, it is worth trying lapas a la plancha con mojo. Although the place has a reputation and is often crowded here (it is worth booking a table in advance), prices are not affordable. Very nice service.
The Old Pandorga (c / El Rancho s / n; 922557144). Lively restaurant, where you can meet such locals at lunch or dinner, as well as tourists. Very good home cooking.
Juan House (c / Juan Gutićrrez Monteverde 25; tel.922557102; Thu.-Tue.). Fresh fish, soups (especially the lapas soup is worth trying), salads and grilled meat - all in a nice atmosphere and at an affordable price.
Disco Pub Canario (c/El Lajial 6). Place, which divers visit for an evening beer.