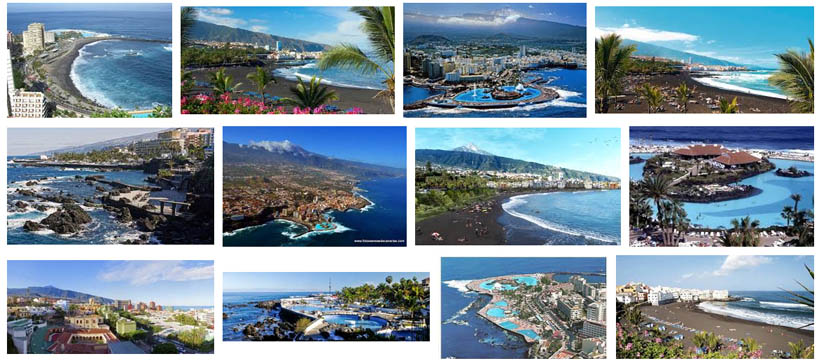 CROSS PORT
Communication, orientation and information
Puerto de la Cruz is an important transportation hub: buses connect you to Santa Cruz de Tenerife from here (#101-103), Los Gigantes in the Southwest (#325), Teide National Park (#348), Beach of the Americas (#343), to both airports (#340) oraz do Icod de los Vinos, Garachico i Buenavista del Norte (#363). Bus Station (c/Pozo s/n; tel 922382917) it is situated west of the old town, to which you go no more than 10 minutes. You can actually say, that Puerto de la Cruz is closing its beaches: to the west is Playa de Jardin, and to the east is Playa de Martianes. It takes approx 30-40 min. The small Plaza del Charco stretches between the beaches, behind which the old town begins.
There are two tourist information offices in Puerto de la Cruz – one off Puerto Viejo 13 (tel 922388777; pn.-pt. 9.00-13.30 i 16.30-19.30), the second one on the ground floor of the Customs House in the port (c / Las Lonjas s / n; tel 922386000; VII-IX pn.-pt. 9.00-19.00, sb. 9.00-12.00, X-VI pn.-pt. 9.00-20.00, sb. 9.00- 13.00), where the service is much nicer.
Active recreation
Atlantic Diving Center (Camino El Burgado 1, Los Realejos; tel 922362801, fax 922364309, info@tenerife-buceo.com, www.tenerife-buceo.com). Kursy PADI, diving trips, courses for children from 8. age.
Ecosub Tenerife Diving Center (c/Cologan 14; tel 922371731, fax 922371731, ecosub@inicia.es). Adult courses, day and night diving trips.
La Rosaleda Golf Club (Carrasco Way 17; tel 922373000, www.golflarosaleda.es). 9-touch golf course.
The Shoal (Avda. Melchor Luz 3; tel 922368468). The company offers a whole range of proposals for active people: diving, paragliding flights, hiking tours, underground mountaineering.
Green Farm (Ctra. Gral Las Cańadas 273, La Orotava; tel 922334007, fax 922334007, info@fincaverde.com, www.fincaverde.com). Horseback riding tours and driving lessons.
Mountain Bike Aktive (c / Mazaroco 26; tel 922376081, info@mtb-active.com, www.mtb-active.com). Bicycle rental and organization of bicycle trips, e.g.. to Teide National Park.
Accommodation
Finding accommodation in Puerto de la Cruz is rather easy. There are many places to choose from at different prices, and because it is a place, where residents also rest, finding accommodation for little money is quite likely.
Botonic (Avda. Richard J Yeoward 1; tel 922381400, www.hotelbotanico.com). An elegant and exclusive hotel with beautiful gardens, from gave from the center.
Florida (Avda. Blas Pśrez Gonzalez 11; tel 922372453, fax 922370979, info@floridatenerife.com, www.floridatenerife.com). Modern hotel close to Playa Jardin.
Marquesa (Quintana Street 11-13; tel 922383151, fax 922386950, reservas@hotelmarquesa.com, www.hotelmarquesa.com). A charming hotel in a historic building (inside patio with typical wooden balconies), right next to the church of Nuestra Seńora de la Pena de Francia.
Girasol Apartments (c/ Doctor Ingram 8; tel 922384300, girasol@apartamentosgirasol.com, www.apartamentosgirasol.com). Clean and spacious apartments right next to Plaza del Charco.
Florida Apartments (c / Calafate 3; tel 922370068, www.floridatenerife.com). Comfortable apartments with a swimming pool, just two blocks from Jardin Beach.
The Principle Apartments (Avda. Melchor Luz s / n; tel 922381915, fax 922238040). Apartments with pool near the bus station and Jardin beach.
Los Geranios Guesthouse (c / Lomo 14; tel 922382810). Modest, but clean guesthouse on a nice street close to Plaza del Charco and the port.
Pension Rosa Mary (c / San Felipe 14; tel 922383253). Second (by The Geraniums) guesthouse in the center, offering cheap en suite rooms close to the center of Puerto de la Cruz.
Gastronomy
Puerto de la Cruz is full of smaller and larger restaurants, cafes and bars, therefore the problem is probably not this, to find a place, where you can eat something, but rather to that, to find such, where you can eat well. Many restaurants are concentrated on Puerto Viejo Street, on the seaside promenade and, of course, at Plaza del Charco.
Among the cheaper ones, it is worth recommending the Ana Maria restaurant opposite the Custom House (c / Las Lonjas; tel 922381166), where they serve really home cooked meals at an affordable price (menu 7 €) and two traditional restaurants on calle San Juan: Marina (tel 922380584) oraz The Trainera (tel 922370041). The first one is famous for its excellent fish, in the second one, you can taste traditional dishes from the peninsula and the archipelago. The Casa Miranda restaurant is a bit more expensive (c / Santo Domingo 13; tel 922373871) in a beautiful mansion with 1730 r. Rule (c / Perez Zamora 16; tel 922384506; nd. closed) serving creative Canarian cuisine is considered one of the best on the island. The village kitchen tastes best at Rustico, a restaurant carved out of the rock beneath Punta del Wento.
Entertainment
Cross port, right after la Laguna, is considered to be the party center of the north - inhabitants of nearby smaller towns often come here. It is customary to start the evening on calle Hoya, where many pubs are open, and ends at the discos on Avenida Generallsimo and Obispo Cóceres.
Discoteca is one of the most popular entertainment venues 100%, Chango Lounge, Discoteca Xit and Joy.
Informant
Apteka c/ Santo Domingo 6 (tel 922384639). Internet CyberLocution (c/A. Bethencourt 3D; tel 922372011; pn.-pt. 9.30-23.00, sb. 13.00-23.00).
Post office c / Pozo 14.
Police Pza. Europe 1 (tel 922378448).
Taxi tel 922380190.