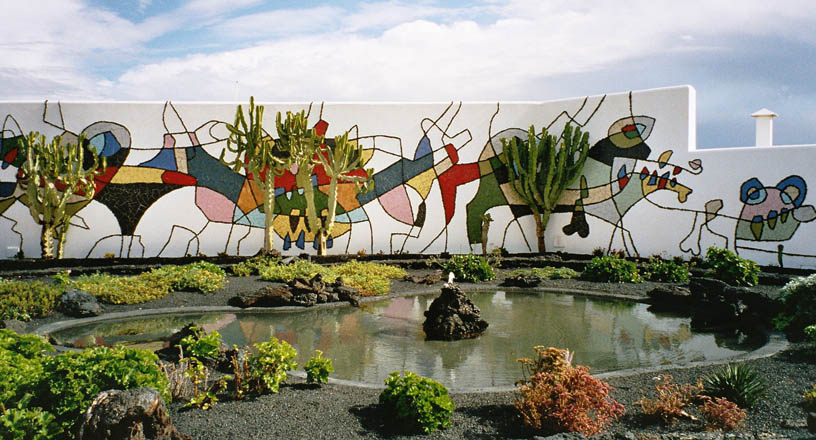 While the northern part of the island has not suffered from the outbreaks from 1730 r., it appears as a stone semi-desert, even striking with its natural beauty, especially since it is decorated with such pearls, like the beach of Famara, volcanic tunnels, cactus plantations and white house settlements.
Tahiche – Cesar Manrique Foundation
Cesar Manriae chose Tahiche as his home, and more precisely the suburbs of this lying only 7 km north of Arrecife township, which is now actually a bedroom for those working in the capital and in Costa Teguise hotels.
The town itself is not very interesting, however, the Fundación de Cesar Manrique is definitely a must – Museum, which was built in the house of the famous artist on his initiative. It's hard to expect, for a man who calls for a return to nature to live in an ordinary building, Manrique has incorporated his traditional white house, House Taro de Tahiche, into the fields of solidified lava, partly also using volcanic caves. The visit gives you a taste of it, what can be seen later in Jameos del Agua. Inside there is an exhibition of works by Cesar Manrique; there are also several smaller works by his contemporaries, e.g.. Picassa, Miró or Tapiesa. There is a small bookstore and gift shop as well as a cafe on the premises of the museum. People visiting the island by bus will have no problem getting to the museum – Several times a day, buses stop at the roundabout with the characteristic moving sculpture by Manrique #7, 9 i 10.
Cesar Manrique
Born in 1919 r. painter in Arrecife, sculptor, architect and ecologist is one of the most distinguished inhabitants of Lanzarote, whose spirit is present in every corner of the island.
Manrique made it his life mission to prevent the destruction of the island's identity and uniqueness by mass tourism. The architect-ecologist was against building tall hotels and setting up colorful billboards. Instead, it promoted traditional low-rise buildings and architectural designs in harmony with the surroundings and using local materials. It is thanks to him that in Lanzarote you can see white houses painted green (interior) or blue (coast) doors and shutters, surreal sculptures moved by the wind or such masterpieces of architecture, Jak Mirador del Rio i Jameos del Agua. The artist also designed the original El Diablo restaurant in Timanfaya National Park, using the heat of the volcanoes, and the symbol of the park and the whole island – the devil of Timanfaya.
The philosophy of Cesar Manrique was accepted by the inhabitants and authorities of the island. The artist's ideas survived even after his tragic death (Manrique died in a car accident in front of his own home). Islanders and stewards are working together on this, that Lanzarote develops according to the aesthetics proposed by the architect, and the rest of the islands of the archipelago benefit from their experience.