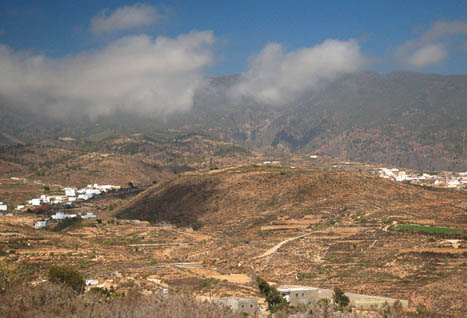 The eastern part of Tenerife is unfortunately quite monotonous – on both sides of the highway from Santa Cruz de Tenerife to the south, there are volcanic brown-tinted volcanic areas. Clusters of white houses add to the charm of the area.
Arico and surroundings
Wbrew pozorom Arico New ("New") it is not a young city, but a nice settlement of traditional white houses, gathered around the 17th-century church of San Juan Bautista. If anyone wants to see an even more naturalistic picture of the Canarian province, should drive to the small village of Icor on the TF-28 road from Arico to Fasni.
There are several houses and farm buildings typical of island architecture. In turn, driving from Arico towards the coast, you reach the nice fishing village of Poris de Abona. It is true that it was surrounded by new buildings, however the small black beach and the fishing boats still retain a lot of charm.
Guimar
Guimar is a nice white town with a church, a graceful square and traditional buildings, however, this is not why it is popular with tourists. Most people come here for that, to see… pyramids. Who is expecting the Egyptian style pyramids, will be disappointed – the buildings from Guimar resemble those erected in Peru and Mexico. The six rectangular, stepped structures that kept many archaeologists awake at night, who initially argued, that they are merely piles of stones laid by farmers.
This theory in 1991 r. the famous Norwegian traveler Thor Heyerdahl was overthrown, who explored the pyramids and found, that the ground for their construction was specially leveled, and for their construction, non-surrounding stones were used, but volcanic rocks, showing traces of machining. Heyerdahl also discovered, that the pyramids were placed in a special way for astronomical reasons. The Norwegian came to a conclusion, that the Canary Islands may have been a stop for the ancients on their way to America (to, that they were able to undertake such a journey, proved in 1970 r., when he sailed a handmade boat from Morocco to Barbados from Papyrus). W 1998 r. area of ​​size 65 000 m2, on which the pyramids stand, was opened to the public as an ethnological park, where you can learn about the theories about the pyramids, and also see a reproduction of Heyerdahl's boat.
You can reach Guimar by bus #120 i 121 z Santa Cruz de Tenerife.
Malpais de Guimar
Pomiędzy El Puertito i El Socorro wyrasta Socorro Mountain – remnant of the volcano, which only exploded 10 thousand. years ago. Flooded by him an area with an area 29 km2 to Malpais de Guimar – perfect place for a hiking trip. You can start your walk in El Puertito (access by bus #120 z Santa Cruz de Tenerife). The first two steps must be made by feel, because there is no trail. The goal is simple: through the lava-covered area you have to climb to the top of the volcano, and then go down the other side to the village of El Socorro visible from the top. The way back to El Portillo follows a perfectly visible trail along the coast. It takes approx. 3-4 at.