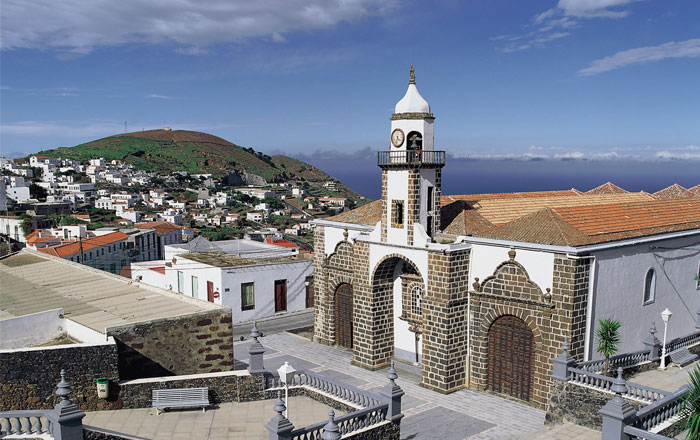 VALVERDE
Communication
Valverde is a town, which you can freely explore on your own feet – the only obstacle is quite a steep slope. There are taxis waiting in c / San Francisco and the Circumralación de Valverde bus to the rescue, which what 30 min drives around the city. Just above San Francisco is El Hierro's main bus station (c/Molino s/n), from which buses depart to the most important towns of the island.
Orientation and information
Valverde is a small town, in which it is really hard to get lost. Most institutions, shops, restaurants and other service outlets are concentrated on the streets of San Francisco and Doctor Quinteiro in the upper part of the town, therefore, it is better to stay overnight in the upper part of the city.
Information about the city and the island is provided by extremely friendly employees of the tourist information office (with Dr Quintero 4; 922550302, fax 922552903, turismo@el-hierro.org, www.elhierro.es; pn.-pt. 8.00-14.30, sb. 9.00-13.00). There is also an information desk at the airport – its opening hours are correlated with the arrivals of planes.
Accommodation
Valverde does not have a very rich accommodation base – the offer is limited to just a few guesthouses and hotels, which prices are higher than in La Fronterra.
Boomerang (c/DrGost 1; 922550200, fax 922550253). Family run hotel at the foot of the hill, on which Valverde lies. It offers seven rooms and a small restaurant. The same family runs the Apartamentos Boomerang in Tamaduste.
Pension Casaas (c / San Francisco 9; 922550254). Definitely the best place to stay in Valverde - a guesthouse run by a nice couple; rooms with tv and bathroom. An additional advantage is the location in the upper part of the city, just 6-10 minutes walk from the station.
San Fleit Pension (c/Santiago 18; 922550857). At the entrance to the city. The guest house offers clean rooms with a private bathroom and a TV. The same owners run the Brasero San Fleit restaurant.
Gastronomy and entertainment
The choice of premises in Valverde is not too big, however, any of the restaurants can be recommended blindly. The venues here are run by residents and for residents, therefore the food is home made, tasty and inexpensive.
Restaurants
Brisas de Asabanos (with Jesus of Nazarene 1; 922551350; wt.-nd. 9.00-24.00). One of the most recommendable places in the city and on the island. He has such specialties on the menu, like sea bream in snail sauce (bream in burgados sauce) or fig cake (fig biscuit).
The Tavern of the Villa (c / Gral. Rodriguez and Espinosa 10; 922551907; Mon-Thu. 9.00-24.00, pt.-nd. 9.00-2.00). Simple, but good Canarian and international cuisine (pasta, pizzas, Salads). An additional advantage is the possibility of using Wi-Fi.
Restaurant after midnight on weekends
transforms into noisy, by El Hierro standards, pub.
Zabagu (c / San Francisco 9; 922550016). In the same building as Casaas; family restaurant, good place for a tasty and inexpensive meal.
It is crowded on Sundays at lunchtime.
The Encounter (c / Los Barriales 4; 922551909). The pub at the entrance to the city is probably one of the most popular in the city. Good home cooking and large portions of delicious tapas.
Brasero San Fleit (c/Santiago 24; 922554175). A family restaurant with real home cooking.
Signature dishes for rancho canario, rabbit in salmorejo oraz roasted cuttlefish.
The Deep Look (c/Santiago 25; 922551787). Just 50 m from San Fleit, excellent soups and fresh fish.
Boomerang (c/DrGost 1; 922550200). Traditional Canarian cuisine served with wines from local vineyards.
saint Louis (c / The Constitution 22; 922551 560). An unpretentious eatery serving perfectly home-made dishes and hearty tapas. The chef's specialty is tripe (calluses).
Cafes
Boutiąue del Pan La Villa (c / Constitution 4; 922551899; pn.-pt. 8.00-21.00, sb. 8.00-15.00, nd. 8.30-21.00). Nice patisserie with excellent coffee, delicious cookies, hot sandwiches and very nice service.
Bar-Cafeteria Beach (c / Doctor Quintero 4). Glass cafe overlooking the main square.
Pubs and discos
Valverde is admittedly the capital of El Hierro, however, according to its inhabitants, it is only an administrative capital. It can be seen very clearly in 15.00 during the week and at weekends, when city life is practically dying out. The officials working in Valverde return to their homes in La Fronter, where the island's social life is concentrated. That is why there are few places in Valverde, where you can have fun in the evening. In addition to the aforementioned La Tabema de la Villa restaurant, you can go to Tasca el Chevelazo for an evening drink (c / General Rodrfguez Sanchez Espinosa 8) and dancing at the Disco Pub El Cine (c / Doctor Quintero 6).
Informant
Apteka c/San Francisco 8 (*922550907). Banks and ATMs Several banks and ATMs are located in c / San Francisco.
Internet
You can use the wireless network in Tabema de la Villa.
Post office c / Correos 3 (922550291).
Police c / Doctor Quintero 11 (922550025).
Supermarket Autoservicio San Juan (c / Dacio Darias 5; in the vicinity of the bus station), Terencio (c / San Adræs s / n; pn.-pt. 9.00-13.00 i 16.00-20.00).
Healthcare In an emergency tri 12. Clinic, c / Los Berriales 1 (922553590); hospital, c / Los Barriales 1 (922553500).
Taxis
Taxi stop (922550729) is in c / San Francisco.
Autosbamir car rentals (c/DrQuintero 27; 922551291, fax 922551245), Cars Rosemary (c / San Francisco 9; 922550422, fax 922551332), Cars Cruz Alta (c / San Francisco 1; 922550004 i 922550349, fax 922551300, rentcarcruzalta@terra.es, www.elhierro.tv/cruzalta), Transhierro (c / San Francisco 4; 922550729, fax 922551496, coopviajerós@yahoo.es).