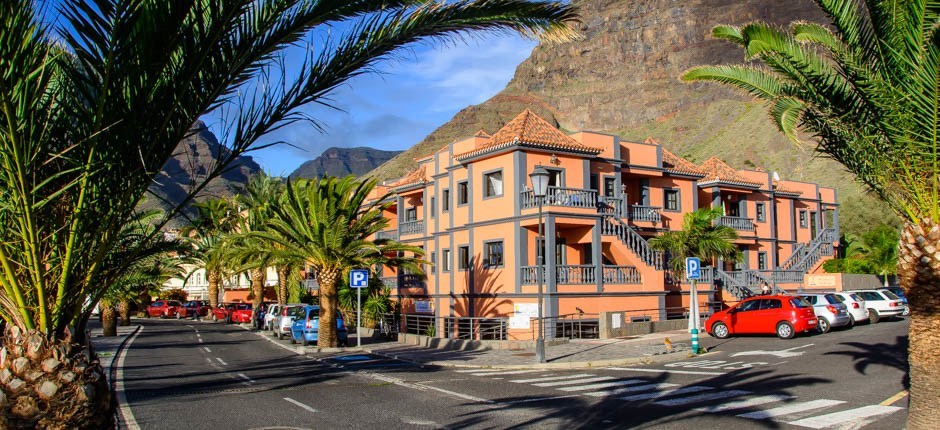 The south of the island enjoys sunshine and good weather practically all year round, so probably that's why two Gomera resorts are located here – Valle Gran Rey oraz Playa Santiago. The landscape to the south changes like a kaleidoscope – raw gorges, sunburned slopes overgrown with aloe vera, green valleys and traditional stone houses emerging from among the palm trees.
Valle Gran Rey
The impressive Valle Gran Rey is without a doubt one of the most beautiful places on the island. Looking out over the rocky and extremely steep slopes of the valley, covered with carved stone terraces, easy to understand, why this part of the island was chosen by the most powerful king of the Gomers as his seat (it was in his honor that this place was called the Valley of the Great King). The greatest treasure of Valle Gran Rey are the breathtaking views, which are spread out from several viewpoints. Going down the valley, it is worth stopping by Ermita del Santo in the small town of Arure – a small mirador was built right next to the chapel. A few kilometers away is the beautiful Mirador de el Palmarejo, which offers a stunning panorama. A popular restaurant is located at the Mirador Cesar Manrique. Already on the coast, Iglesia de los Santos Reyes from the 18th century attract attention. and the small Ermita de Carmen near the port of Vueltas. On Playa de la Puntilla there is an imposing statue of the Hautacuperche warrior, which in 1488 r., showing tremendous courage, he killed the Spanish governor of the island, Hernan Peraza the Younger (tooth. frame Mutiny of the Gomers).
The beaches of Playa de La Calera and Playa de la Puntilla have the opinions of the best on the island. A small one is best for bathing with children, sandy beach in a very quiet and sheltered bay Charco del Conde, which is affectionately called baby-bay. There are also several naturist beaches in the vicinity, m.in. English beach (north of La Calery) oraz Vueltas Beach, which leads to the sandy Playa de Argaga and the rocky Playa de Las Arenas. Bathing in Playa del Ingles, you have to be very careful with strong sea currents.