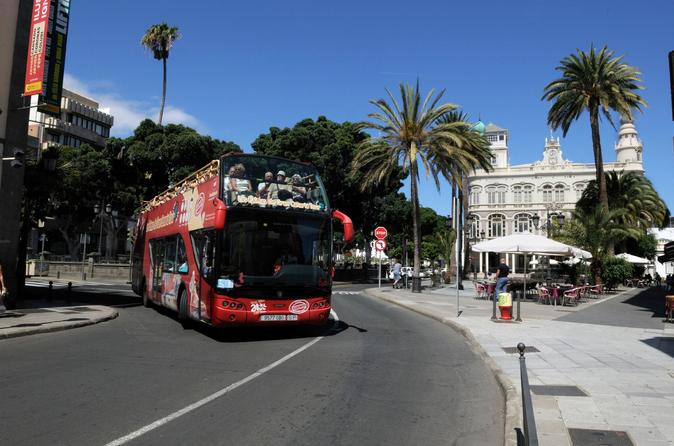 THE GRAN CANARIAN PALMS
Communication
Bus Station
From the main bus station, Guaguas Stadium (San Telmo Park s / n; 928381110), Blue Globalsur buses are departing, which allow you to get from Las Palmas de Gran Canaria to virtually anywhere on the island.
City buses
Communication is provided by a dozen or so lines served by yellow city buses (928446500, www.guaguas.com). A single ride costs money 1,20 € (payable to the driver), a bon na 10 crossings 6,50 € (available at some newsagents and at the bus station). Line buses #1,12 i 13 commute from Teatro Perez Galdos to the port.
Taxis
You can catch a taxi in the street, at one of the numerous stops, or by calling 928462212 i 928465666.
Car
The biggest problem with Las Palmas is the lack of parking lots. Cars are lined up in several rows on every street, including expressway shoulder and bridges. Finding a free space is almost a miracle and takes a lot of time, and the few paid parking lots are very expensive.
information
Have to admit, that Las Palmas de Gran Canaria is a city perfectly prepared to receive tourists.
There are well-stocked offices and tourist information points in various parts. The island's main information and promotion office welcomes you to c / león y Castillol 7 (928219600, dpromocion@grancanaria.com, www.grancanaira.com; pn.-pt. 8.00- 15.00). Information about the city is provided by the network of municipal tourist information offices (928446824, www.laspalmasgc.es), which can be found at the bus station (San Telmo Park; 928368335; pn.-pt. 6.30-20.30, sb. 7.30-13.00), in a small wooden kiosk next to San Telmo Beach (pn.-pt. 10.00-20.00, sb. 10.00-15.00), at Hurtado Mendoza Beach (pn.-pt. 10.00-20.00, sb. 10.00-15.00), at the kiosk in Playa de las Canteras (opposite the Melia Las Palmas hotel; pn.-pt. 10.00-19.30, sb. 10.00-13.00) and in Parque Santa Catalina (pn.-pt. 9.00-14.00). In addition, there is an agency in Pueblo Canario run by a private tourism organization (Pza. of the palms 3; 928243593, fax 928296241, cit@citgrancanaria.es, www.grancanaria.es; pn.-pt. 8.00-15.00).
Orientation
The city stretches along the sea line, partially occupying a small sandy isthmus and a peninsula called La Isleta. On the west side of the isthmus is the port of Puerto de la Luz and the small beach of Alcalavaneras, and on the eastern side the famous 3 km long Canteras beach and the surrounding Santa Catalina district.
4 km to the south lie the historic neighborhoods of La Vequeta and Triana.
Accommodation
In Las Palmas de Gran Canaria there is no shortage of accommodation with very different prices and conditions. Most hotels and guesthouses are in the Santa Catalina district near Playa de las Centeras.
Vequeta
Park (Las Palmas Pier 2; 928368000, www.hparque.com). Nice hotel in a building with 1940 r., right on the Beach de San Telmo.
Madrid (Pza. by Cairasco 2; 928360664). Legendary hotel in old style, in which General Franco burned.
Pension Perojo (c / Perojo; 928371387). Modest, but clean rooms in a renovated historic tenement house near a busy street.
Santa Catalina
Tenesoya (c / Sagasta 98; 928469608, fax 928460279). Nice and clean hotel on the west end of Playa de las Centeras. Brisamar Apartments (Walk of Las Canteras 49; 928269400, www.brisamarcanteras.com). Fully equipped apartments on Playa de las Centeras.
Verol (Sagasta 25; 928262104). Two-star hotel after general renovation, in the west of Playa de las Centeras,
Pensión Beach (c / Luis Morote 16; 928265212, pensionplazagrancanaria@hotmail.com, www.pensionplaza.es). Modest, clean rooms right next to Santa Catalina Beach, 70 m from the beach. Possibility to use the washing machine 8 €
Garden City
Santa Catalina (c / león and Castillo 227;928243040, www.hotelsantacatalina.com). The first hotel, built on the island remains one of the most elegant and stylish in the city.