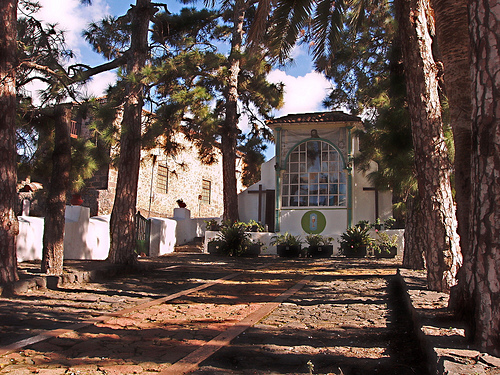 The north of the island of Tenerife
If someone was suddenly moved from the south to the north of the island, he might think, that he changed the continent. The green and humid north is a completely different world from the sunburned south. It is an extremely interesting area to explore – not only beautiful nature can be found here, but also the most beautiful architectural monuments on the island
Z La Laguny do Tacoronte
From La Laguna, Tacoronte is reachable within a few minutes via the motorway, however, it is worth making a bit of a trip and taking the route leading through Guamasa, Valle Guerrę i El Pris. None of these places are exceptionally delightful, but the views from Mirador del Boquerón and El Pris are wonderful. In addition, just before entering Valle Guerry, the Museo de Antropologia de Tenerife is located (Museum of Anthropology), furnished in a beautiful estate from the 18th century. The exhibitions present the lifestyle (Clothes, agricultural tools, musical instruments) grandparents and great-grandparents of today's canarios. You can also reach Valle Guerry by bus #051 from La Laguna.
Tacoronte
From top to shore, there is no wine like Tacoronte from the sea to the mountain ends… This folk chant reminds you of it, that Tacoronte is the capital of one of the most important wine regions of Tenerife, which produces excellent red wine. The town has rather modern buildings and is not one of the most beautiful on the island, although you can find two really charming places in it: the square and the surrounding area around the colonial Iglesia de Santa Catalina and approx 20 minutes to the east Iglesia de Santo Cristo de Dolores from the 17th century., together with the adjacent Order of San Agustm. Right next to it is the small Callejón Jose Izquierdo with picturesque traditional houses. Buses go to Tacoronte #101 z Santa Cruz de Tenerife i z Puerto de la Cruz oraz #021 i 051 from La Laguna. Information can be obtained from Oficina de Información y Turismo de Tacoronte.
El Sauzal
Just 3 km from Tacoronte towards the coast lies the small town of El Sauzal. Most people come here because of two beautiful viewpoints.
Mirador de Garańona, situated on a steep cliff, offers a beautiful panorama of the eastern coast, and from Mirador de Baranda a view of the western part of the island and Mount Teide. Right next to the second viewpoint, right on the motorway exit, it houses the Casa de la Baranda Wine and Honey Museum. Learn about the winemaking process in an establishment set in a magnificent country estate, and also try and buy alcohol made in Tenerife. The hungry can have a meal in a very good traditional restaurant within the museum. You can reach El Sauzal from La Laguna by bus #11 i 12.