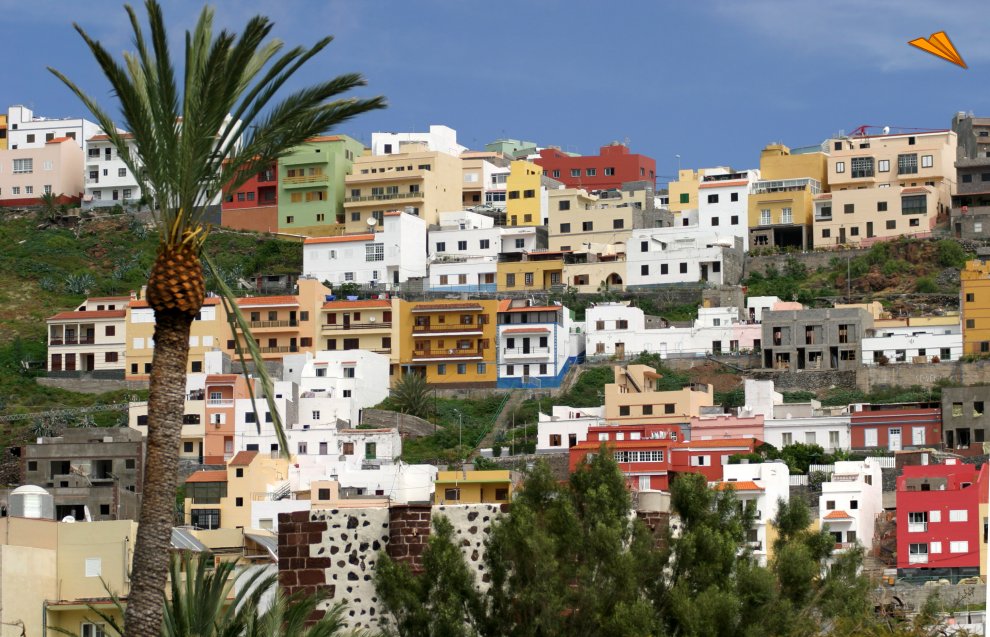 SAN SEBASTIAN DE LA GOMERA
Communication
San Sebastian is a small capital city, counting only 8 thousand. residents. City, especially its historic part, you can (and you even have to) explore on foot, because taxis are the only means of public transport (in fact, only needed then, when someone would like to drive to the Parador hotel on a cliff above the city).
San Sebastian has the main bus station (Avda. V Centenary; 922141101, srgomera @ servicioregulargomera.com, www.servicioregularlagomera.com)
La Gomery, from which buses depart to the rest of the island. Most vehicles go first to pick up the tourists waiting at the port, and then returns to the station at the scheduled time.
Orientation and information
Even people without a sense of orientation will have no problem getting around San Sebastian. All sights, most of the accommodation and restaurants are located on the Americas Beach and Constitución Beach and on the main street of the city that separates them, real street, also called calle del Medio.
Information about the island and the city is available at the tour desk (c/Real 4; 922141512,fax 922870281, turismo@gomera-island.com, www.gomera-island.com; VII-IX pn.-pt. 9.00-13.30 i 15.30-17.00, sb. 9.00- 13.00, X-VI pn.-sb. 9.00-13.00 i 15.30-18.00 nd. 9.00-13.30 i 15.30- 17.00) on the main street of San Sebastian, na tyłach Casa de la Aguada, It is worth asking not only for a map of the island, but also a map of tourist routes or bus timetables. There is a small information desk at Beach Americas (pn.-pt. 9.00-12.30 i 15.30-18.30 sb. 9.00-12.30 i 16.00-18.30).
Accommodation
Finding accommodation in San Sebastian is not a problem - the city has a large selection of guesthouses and hotels for every budget.
National Parador Conde de Gomera (Cerro de ia Horca s / n; 922871100, gomera@parador.es, www.parador.es). The most beautiful and luxurious hotel in a Canarian manor house. Rooms with access to the garden, from which there is a view of Tenerife.
Count's Tower (c / Ruiz de Padrón 19; 922870000, fax 922871314, recepcion@hoteltorredelconde.com, www.hoteltorredelconde.com). Twin brother of Garajonay hotel with slightly higher standard. It is worth asking for a room overlooking the Torre del Conde.
Garajonay (c / Ruiz de Padrón 15; 922870550, fax 922870554, www.hotelgarajonay.es). Two-star-clean and relatively large rooms with balconies.
Quintero Apartments (Americas Beach 8; 922141744, apquintero@teleline.es). Clear, albeit not very spacious apartments in the main square of San Sebastian, two steps from the port.
Villa Gomera (c / Ruiz de Padrón 68; 922870020, fax 922870235). The hotel in the center offers clean rooms with private bathrooms, but no TV. Very nice service.
Bernabe Apartments rentals (c / Ruiz de Padrón 80; 922141387). Large and clean apartments on one of the main streets of San Sebastian. Colon pension (c/Real 59; 922870235). Modest, but a clean guesthouse, furnished in a typical Canarian house; cheap rooms without bathroom.