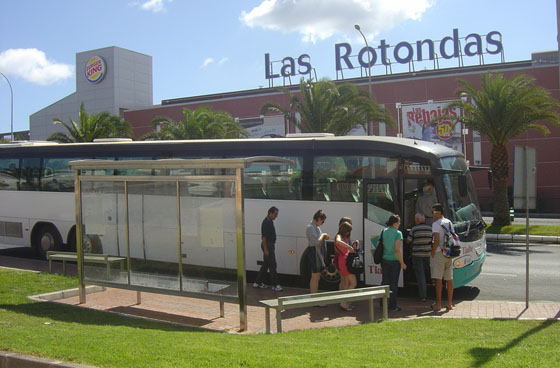 PUERTO DEL ROSARIO
Communication
The bus station in the northern part of the city is the main station of the island – you can get to almost every corner of it. When it comes to getting around town, a city bus is available, which what 30 min (7.00-22.00) departs from the bus station, touring all city districts one by one. Taxi ranks are at the port and next to Casa de Unamuno.
Orientation and information
In the case of Puerto del Rosario, it is difficult to talk about any center, outside the modern Las Rotondas shopping center, south of the port, which seems to be the most important commercial and social facility in the city.
The main street of the city is the tree-lined avenue Castillo y León leading to the port and the commercial Primero de Mayo that crosses it. (However, you should not expect shopping).
Information about the city and the surrounding area can be obtained from the municipal tourist information office in the glass pavilion at the port (Municipal Tourist Office; Paseo Maritimo Puerto del Rosario s / n; 18527668, fax 928850277, www.turismo-puertodelrosario.org; VII— IX pn.-czw. 8.00-21.00, pt. 8.00-20.00, sb. 10.00-12.30, X-VI Mon-Thu. 8.00- 14.00, pt. 8.00-13.00), and about the whole island Fuerteventura Information and Promotion Office (Fuerteventura Tourist Board; c / Almirante Lallermand 1; 928530844, fax 928851695, www. fuerteventuraturismo.com; VII — IX pn.-pt.8.00-14.00, X-VI pn.-pt. 8.00-15.00).
Accommodation
Puerto del Rosario is probably the only place on the island, in which travel agencies do not book wholesale hotels, therefore, finding accommodation is relatively easy and cheap.
Fuerteventura (White beach 45; 928851150, fax 928851158, hotelfuerteventuracobildofuer.es, www.cabildofuer.es/PARADOR). The classy three-star hotel once belonged to the state-owned network of paradors, and is currently managed by local authorities. It stands by a beautiful beach, ok. 3 km from the center of Puerto del Rosario. Unfortunately, the nearby airport can be quite hard.
JM Puerto Rosario (Avda. Ruperto Gorizalez Negrin 9; 928859464, fax 928852260, fuerteventura@jmhoteles.com, www.hoteljmpuertodelrosario.com). Typical chain hotel. Clean and spacious rooms make a much nicer impression than the building itself.
Hostal Tamaiste (c / León y Castillo 9; 928850280, fax 928850300, htamaiste@yahoo.es). Nice guesthouse on the main street of Puerto del Rosario. Rooms with bathrooms and TV.
Roquemar (Avda Maritima s / n; 928531547, fax 928533646, info@hotelroquemar.com, www.hotelroquemar.com). Hotel in front of the port, on a fairly busy street. The rooms are spacious, clean and with balconies.
Macano I i II (c / Almirante Fontin Lobe 10; 928851197, fax 928851197). A guesthouse and a small hotel in the northern part of the city, near the bus station. Rooms without bathroom from 15 €. In Macario II all rooms are en-suite.