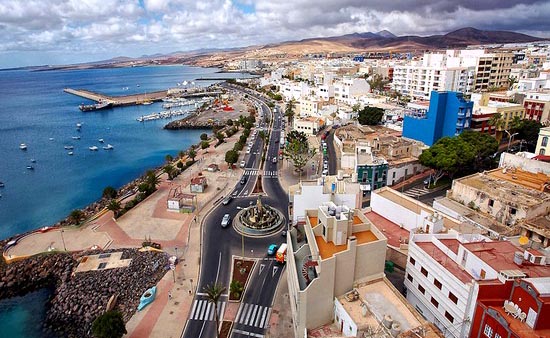 Puerto del Rosario
The capital of the island, inhabited by 35 thousand. people, it is the only city on the coast of Fuerteventura, which was not built with tourists in mind. Unfortunately, little else can be said about Puerto del Rosario, maybe besides that, that it is relatively easy to find accommodation there, and people traveling around the island by bus will easily get almost everywhere from here.
Although Fuerteventura has been conquered over 600 years ago, the history of its current capital does not start until 1860 r. Previously, the island's capital was inland Betancuria, and today's city of Puerto del Rosario had the status of a small fishing village with the intriguing name of Puerto de Cabras ("Goat port").
The end of the pirate era and the strategic location of Puerto de Cabras dominated the change of capital. W 1956 r. the name of the city was considered unsuitable for the island's capital and was renamed Puerto del Rosario.
Puerto del Rosario is perhaps the most disappointing capital of the Canary Islands. It is difficult to find even one noteworthy monument on the neatly demarcated streets.
The few include the church of 1824 r., growing on calle León y Castillo, and Museo Unamuno - a small house, where the Spanish writer Miguel de Unamuno lived for several years, exiled in 1924 r. to the island for criticizing King Alfonso XIII and Prime Minister Miguel Prima de Rivera. In recent years, out of concern for the appearance of the city, its authorities have purchased over 100 contemporary sculptures, which were set up in different parts of the city – most along the small seaside promenade.