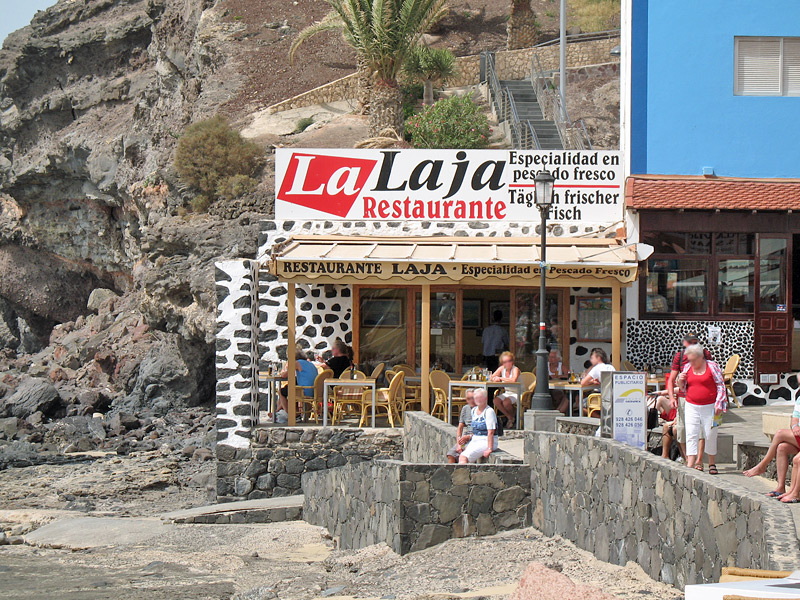 MORRO JABLE
Communication, orientation and information
Buses from Puerto del Rosario go to Morro Jable (#1; ok. 2 at; 9 €; #10 via the airport approx. 1 at. 30 min), Costa Calma (#5; ok. 40 min; 3 €) and from La Lajita (#25). There is no train station in the town – buses stop at stops along the main road. None of them reach the port, where ferries depart for Gran Canaria (from the last stop to the port you have to walk approx 15 min at a quick pace).
The port and the old part of town are perched on the southern tip of Morro Jable - the tourist centers stretch north along the beautiful white Playa de las Coloradas and Playa del Matorral.
There are two tourist information offices in the village: main branch in the basement of the shopping center (Avda. The Saladar, s/n Ctro. Work Shopping Center; 3928540776; pn.-pt. 8.00-15.00) and a small information pavilion on the Matorral beach (pn.-pt. 8.00-15.00).
Accommodation
The situation of Morro Jable is similar to that of other Canarian resorts - huge resorts prevailed almost entirely by travel agencies. It is saved by private apartments in the old part of town.
Club deApartments (www.dubdeapartamentos.com). A club associating four small apartment complexes in the old part of Morro Jable. Two of them, Dove (r/Carmen 2; 928545012, fax 928545307, lapaloma@trew.net) i The Watchtower of Jandia (c / Altavista s / n; 928540277, fax 928540238), they stand on the hill behind the church, and the other two, Rocamar Beach oraz Garden (c / Las Arenas s / n; 928540784, fax 928540898), next to the beach,
Pension Maxorata (c/Maxorata 31; 928541087, fax 928540474). Modest, but clean rooms with bathrooms.
Pension Omahy (c/Maxorata 47; 928541254). The rooms need to be refreshed, however, they are clean and comfortable. Some have no bathrooms.
Gastronomy
Along the extremely long Avda. The Saladar is a string of hotels, shops and of course restaurants and bars, however, for a meal it is better to go to the old part of Morro Jable, where at the seaside ; On the promenade there are several cozy eateries, which surprisingly serve fresh and well-prepared dishes.
The łaja (Avda. Tomas Grau Guerra no number; 928542054). The restaurant at the beginning of the promenade serves excellent fish and traditional dishes. An additional plus is a beautiful observation deck. The great grilled sole is highly recommended (grilled sole).
Seagull (Avda. Tomas Grau Guerra no number; 928542097). It's worth looking for this a bit : hidden restaurant, because they serve fresh fish and other traditional Canarian delicacies. Grilled sardines are second to none.
Fishermen's Guild (Fishing Pier s / n; 928540834). The best fish and traditional dishes are served in the modest restaurant run by the fishermen's association, kilometer south of the city.