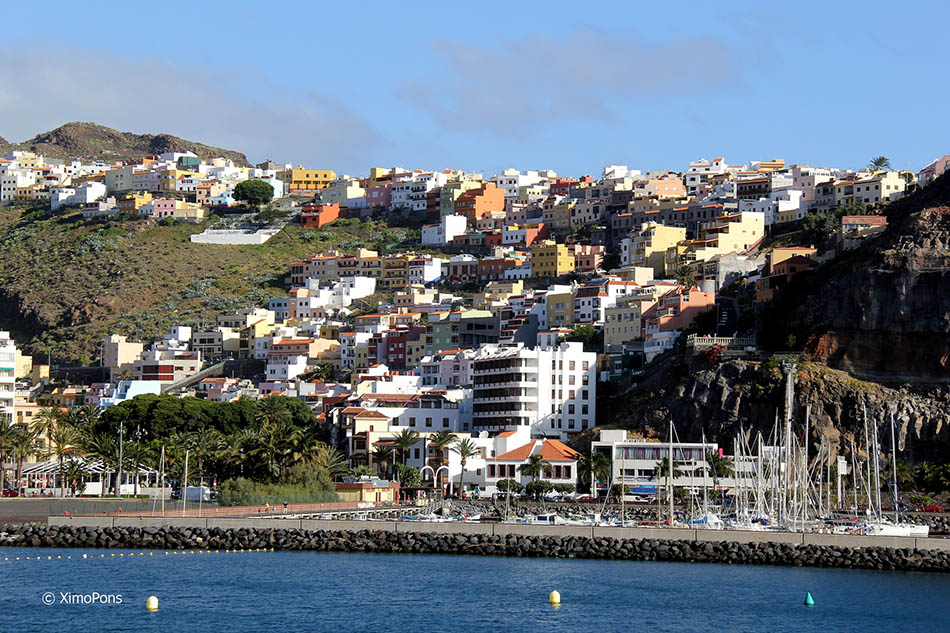 • San Sebastian de la Gomera
Numbering approx 6,5 thousand. inhabitants, the city has probably not changed much since time, when Christopher Columbus stayed here for a few days, to replenish supplies. Administrative, the historical and economic capital of the island is not without its small charm, even a provincial town, where life seems to flow slower. Narrow streets, low-rise colorful houses, climbing the slopes of the valley, some interesting sights and two beaches - this is what San Sebastian offers to residents and visitors.
• The organs
Measuring approx. 80 m high, basalt formations resemble organs – hence their name. Created as a result of the cracking of very slowly cooling lava. They are best seen from the sea, so watching them has to be combined with a cruise.
• Garajonay National Park
Located in the center of Gomera, Garajonay National Park is occupied 3986 ha, which is over 10% area of ​​the island. The reserve is famous for the world's largest laurel forest (laurisilva) – forest formation, which in the Tertiary (from 65 do 1,8 min years ago) it covered almost all of Europe. The, disappeared during the Ice Age, it has survived in the Canary Islands thanks to the unique climatic conditions that prevail here (moderate temperatures, heavy rainfall and high air humidity). Founded 25 brand 1981 r. Garajonay już w National Park 1986 r. has been included in the UNESCO World Cultural and Natural Heritage List.
Intimate and peaceful – these are the words, which best describe this little island (369,76 km2), inhabited by 20 thousand. residents. La Gomera is just away 30 km west of Tenerife. Geologically, it is considered one of the oldest islands in the archipelago, estimating her age at approx 12 min years.
Arriving in La Gomera from San Sebastian can be impressed, that the barren desert stretches before them. However, it is enough to drive a few kilometers deep into the island, to find lush greenery.
This is green, or more specifically, a unique laurel and cedar forest, which can be admired in foggy Garajonay National Park, it is the greatest treasure of this piece of land. Unofficially, the island's greatest treasure is its inhabitants – extremely open-minded, cordial, helpful and uncontaminated by mass tourism virus.
La Gomera has managed to avoid the tourist boom of the years 60. XX w., when huge resorts were built in Tenerife and Gran Canaria (anyway, there would be nowhere to build them on this small island). Finding an offer of package holidays in La Gomera is not easy, Despite this, or maybe for this reason, the island is enjoying a growing interest. Tourists, who decide to spend their vacation here, rather, they are looking for silence, contact with nature and peace, which even more and more people are not able to disturb, day tourists from Tenerife.