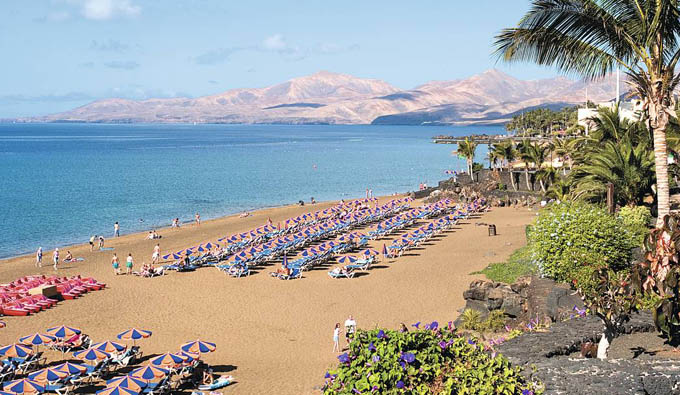 Lanzarote's south coast is dominated by sun and beach-hungry tourists, especially by families with young children and retirees coming mainly from England and Germany. The holiday resorts of the island differ from traditional tourist resorts including, that thanks to Cesar Manrique's insistence, there isn't even a single tall hotel there. In all other respects Puerto del Carmen, Puerto Calero and Playa Blanca are typical seaside resorts. You can find beautiful here, though unfortunately, more and more crowded golden beaches, hotele, apartments, restaurants, car rentals, shopping centers and everything else, what seems to be necessary for happiness on vacation.
Costa Teguise
Costa Teguise, just a few kilometers north of the island's capital, is a typical holiday resort, created from scratch especially for tourists.
Puerto del Carmen
Puerto del Carmen is the largest and loudest resort in Lanzarote - the only place, where the ideas of Cesar Manrique have not been fully preserved. The line of buildings closest to the sea is heavily commercialized – it's full of restaurants, bars, gift shops and of course tourists. The only part of the city, where you can feel a bit of Lanzarote's atmosphere, is the former fishing port of El Varadero at the western end of the resort.
Beaches – 6 km of sandy beaches of Puerto del Carmen are considered the best on the island. Knowing the northern beaches of Lanzarote, one can argue with this, However, the kilometer-long Playa de Poncillos and Playa Grande perfect conditions for sunbathing cannot be denied, swimming and practicing any water sports. People looking for more intimate places can go to Playa de Fariones or Playa Pila de Barilla.
Puerto Calero
A small town just a few kilometers south of Puerto del Carmen is its complete antithesis. The town is primarily a marina, therefore most tourists, you can meet here, they are sailors, especially, that there are no beaches in the town.
Puerto Calero is worth a trip, to visit the Museo de Cetaceos (Whale Museum). The rest of the town's attractions are directly related to water – you can go on a submarine excursion with Submarine Safaris, sign up for a sailing course or a yacht or catamaran cruise. Volunteers can try their hand at diving with Squalo Diving Center and Lu Island Watersports.
White beach
White beach, until recently a quiet fishing village, is today a rapidly growing tourist destination, a quieter alternative to Puerto del Carmen.
Beaches – W samej miejscowości jest kilka przyjemnych plaż – unfortunately, crowded. The largest crowds are attracted by the 300-meter long Playa Dorada in the eastern part of the city. Equally many amateurs have a small one, just 40 meters long Playa Blanca in the very center of the town. To the west of the port is the sandy Playa Flamingo, two rocky –sandy beaches of La Campana (140 m) and La Mulata (80 m) and the westernmost golden Playa Montana Roja (260 m). All of them are perfect for bathing with children.
If someone is looking for a little more peace, should go to the famous Playas de Papagayo: three white beaches separated by black volcanic cliffs, ok. 5 km west of Playa Blanca. Do Playa de Mujeres, Playa Papagayo and Puerto Muelas are driven by a gravel road, which can be walked or driven by a car.