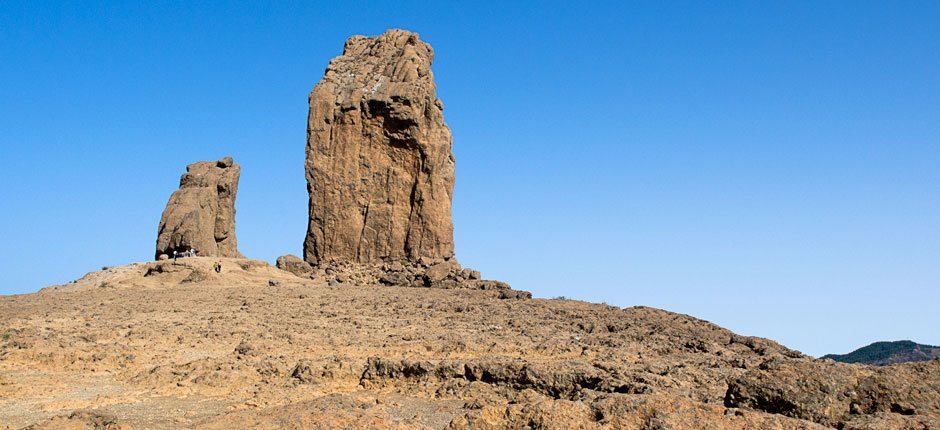 • Las Palmas de Gran Canaria
In the initial period, as the first city of the archipelago founded by the kings of Castile, Isabella and Ferdinand, the capital of Gran Canaria was called Real de las Palmas. Currently, it is the largest city not only of the island, but also the archipelago, the most cosmopolitan, a modern and busy metropolis of the Canary Islands.
• Puerto de Mogan
Squeezed between massive cliffs, the resort is often called the Venice of Gran Canaria, and although it is a lot of exaggeration, have to admit, that it is one of the most charming places on the island, and certainly one of the most beautiful resorts. A marina has been created in the former fishing port, around which two-story white houses with colorful finishes were built. Bougainvillea were planted on the roofs and on the connecting pergolas, which fall in colorful cascades – the effect is truly fabulous.
• Roque Nublo
It's measuring pond 67 m basalt monolith growing from the rock at the height 1813 m n.p.m., one of the most recognizable symbols of Gran Canaria. It is surrounded by smaller rocks – due to the characteristic shapes they are called La Rana ("frog") oraz The Friar ("monk"). All three are best viewed from the Degollada Becerra viewpoint a few kilometers south of Cruz de Tejeda. Roque Betaig is also visible from there – monolith growing almost perfectly in the center of Gran Canaria.
The famous Canarian writer Fray Lesco was the first to call Gran Canaria a "miniature continent", saying, that when snow is falling in the mountains in the center, a few kilometers below you can sunbathe on the beach. Although snow, even in the highest parts of the island, it is not natural, it is due to the incredible diversity of Gran Canaria's landscapes that it fully deserves such a term.
Just 60 km separates the semi-arid areas of the south from the green slopes of the north, and on the way you can see deep gorges dotted with charming villages. It is worth remembering this, when Gran Canaria is only thought of as the main beach area of ​​the archipelago.
Despite its evocative name, Gran Canaria is not the largest island in the archipelago, but only the third, however, this is where the most people live, because until 800 thousand. Canarians, half of them in Las Palmas de Gran Canaria, which is the most populous city on the islands.
Climate of Gran Canaria, like the other islands of the archipelago, he is extremely gentle – is said to be, that it is eternal spring here. Actually, the average annual temperature is approx. 22°C, while in summer it usually reaches approx. 25-26°C, and rarely drops below 18-19 ° C in winter.