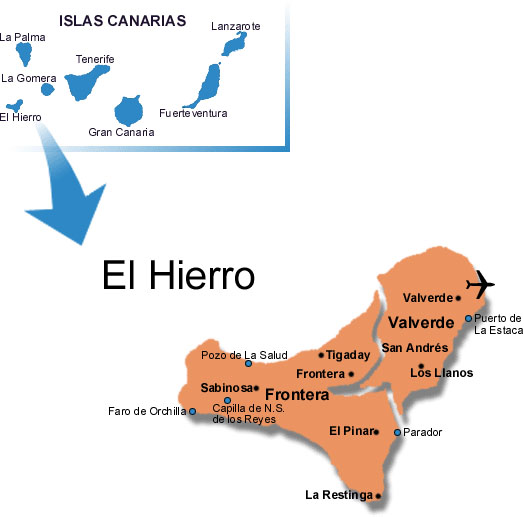 Orientation
El Hierro is an island, which can not only be covered by eyesight, what with mind. The boomerang-shaped island is divided into three municipalities: Valverde in the northeast, El Pinar in the south and La Frontera in the north, including El Golfo. Most of the villages are concentrated in the north-eastern part, while its south-west side is virtually uninhabited, and partially even unavailable. You can find very different landscapes on El Hierro – from the pine forests to the south, through the lava fields around La Restinga, grotesquely twisted junipers in western La Dehesa, all the way to the surprising 16 km long green El Golfo, where exotic fruits and flowers are grown.
Climate
Just like on the other islands of the archipelago, the climate on El Hierro is very mild, it's a windy island though, therefore the perceived temperature here is slightly lower than this, which the thermometer shows, and the difference between day and night is noticeable. It's warmer in the south, cooler in the north: while in the south in summer, temperatures often hover around 30 ° C, in the north they rarely exceed 25 ° C. Going to El Hierro, it is worth to pack a few warmer clothes and something rainproof just in case – in the upper parts of the island, where thick clouds are concentrated, there is a phenomenon of horizontal rain.
Arrival
Plane
A small airport (922553700) it is situated on the coast, 12 km from Valverde. Thanks to connections operated by Bintercanarias lines (902391392, www.bintercanarias.com) El Hierro can be accessed from virtually all other islands of the archipelago – although without a change only from Gran Canaria (ok. 20 weekly calls; 1 at) and Tenerife (ok. 40 weekly calls; 45 min).
There, who choose not to rent a car at the airport to Valverde, can be reached by bus that runs several times a day #6 or a taxi (922550729). A trip to the center of Valverde shouldn't cost more than 12 €.
Prom
Getting to El Hierro by ferry is complicated – there aren't many connections, and the journey is quite long. Katamarany fred olsen express (922628200, www.fredolsen.es) they only go to the island four times a week (Tue "Thu., pt. i nd.). Naviera Armas ferries (La Estaca Pier s / n; 922550905, www.navieraarmas.com) run between Puerto de la Estaca and Santa Cruz de Tenerife (El Hierro — Teneryfa: wt., Wed. i nd.; Teneryfa-EI Iron: pn., Wed. i pt,; ok. 8 at; 50 € return, with the car 140 €, surcharge for the cabin 30-70 €) oraz Santa Cruz de La Palma (El Hierro — La Palma: wt., Wed. i sb.; La Palma-EI Hierro: nd.; ok. 4 at. 60 €, with the car 100 €). Using ferries is made even more difficult by the fact, that ships often depart and arrive late in the evening or in the morning.