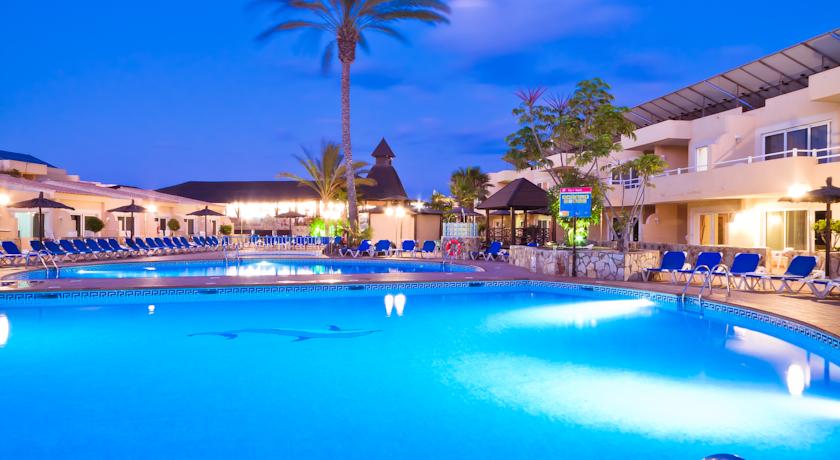 CORRALEJO
Accommodation
There are really many places to stay in Corralejo, unfortunately, most of the apartments work closely together 7 travel agencies, therefore it is difficult to make an individual reservation.
Dunas Club (c / The Octopus 2; 928535211, fax 928535264, dunasdub@a-caledonia.com, www.a-caledonia.com). Comfortable apartments with their own swimming pool, right next to the port and the older part of Corralejo.
Hesperfa Bristol Playa (Bristol Lake Housing Estate 1; 928867020, www.hesperia-bristolplaya.com). Apartment complex maintained in a typical Canarian style, right by the sea, with beautiful pools.
Lobos Bahfa Club (c / Gran Canaria 2; 928867143, fax 9288666684, www.lobosbahiadub.com). An apartment complex that gives the impression of an intimate, 400 m from the beach and one kilometer from the dunes.
Corralejo Beach Apartments (Avda. Our Lady of Carmen 3; 928886315, www.corralejobeach.com). Recently refurbished apartment complex with swimming pool and mini golf, between the old and new parts of Corralejo.
Corralejo (c / Colon 1; 928535246). The beach hotel offers modest, but neat rooms.
Gastronomy
There is no shortage of dining options in Corralejo – everyone will find something for their own taste and pocket. The nicest places to eat are the little restaurants in the older part of Corralejo, right next to the port.
Fishermen's Guild (Small Pier 5; 928867773; 11.00-22.00). A very popular place, where fish caught on the same day by fishermen are served.
The Compadres (c / La Ballena 4; 928535897; Wed-Mon. 10.00-16.00 i 20.00-24.00). Fish caught at night for a reasonable price.
The backyard (c / Lepanto 6; 928868181). Restaurant at just 16 tables, in which they serve excellent stewed fish (Fish Zarzuela).
The Marquee (Small Pier 62; 928535435). You can enjoy fresh fish at lunch overlooking the sea. The offer also includes the del menu for.
Sotavento (Avda. Marftima s/n; 928535489). Restaurant with traditional Canarian food.