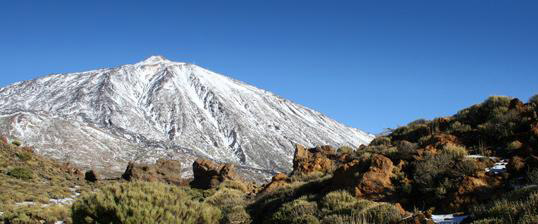 The middle of the island of Tenerife – Teide National Park
The ancients called Tenerife Nivaria, or "island of snow" – as you can guess, the reason was towering over the island, often snow-capped volcano Teide. This is how this massive volcano presents itself from any point on the island – the greater the surprise, when after reaching the top it turns out, that it grows in the middle of a mighty caldera, Las Cańadas, lying at a height 2000 m n.p.m. The caldera is over 17 km, 48 km in circumference and walls rising in height 600 m, and its interior is filled with various types of lava. According to one theory, the crater is a remnant of a previously existing giant volcano rising above 6000 m n.p.m., whose walls have slumped down to the sea.
Caldera together with Teide is one of the most amazing places on the island, probably because of 1954 r. the area of ​​ u200b u200bthe area 190 km2 is a national park. This is probably the most common, on the beach of Los Cristianos, visited place on the island, however, it is only crowded there, where you can get there by car – few tourists decide to go on a hiking trip into the park, where you can see different colors (from black, through red, yellow to green) and lava types. The park changes depending on the season – in late spring it explodes with a true riot of colors, in summer it seems like a scorched desert, and in winter it covers with a snow cover.
When Teide was devoured by the sun…
According to Guanche mythology, one day the evil demon Guayota, inhabiting the interior of the volcano, He took the sun god and light Magec. There was complete darkness on the earth, and the terrified Guanches pleaded with the supreme of their gods, Achamana, for his release. Their prayers were heard – the sun has reappeared in the blue sky. The legend of the Guanches probably concerns the Xlll-century volcanic eruptions, after which the sun was blocked by the ashes floating in the air for seven years.
Teide
The roller coaster is the fastest, the most popular and expensive way to reach the summit of Teide - in just 8 minutes overcomes 1200 m. The upper station is approx. 3555 m n.p.m., therefore remember to bring warm clothes (people with respiratory diseases and heart disorders should rather give up the trip). It is best to plan the entry before noon – later you can get stuck in the line at the checkout for up to two hours
Both from a 35-seater carriage, as well as the summit, you can enjoy beautiful views – on clear days you can see all the other islands of the archipelago. The upper station is located approx. 168 m from the top of the volcano. You can only go further on your feet and on the condition that you have obtained the appropriate permission.